Experience the signature taste of Perry's Steakhouse & Grille at Oakbrook Center, located right next to Neiman Marcus and just minutes from downtown Chicago. Enjoy an elegant meal in front of the towering wine wall, host an event in one of our five private dining rooms, or simply enjoy a drink on the outdoor patio. Join our email list to receive special offerings and event updates from Oak Brook!
General Manager: Jeffrey Pagnotta Executive Chef: Stephen Azark
Hours of Operation
Restaurant
Bar 79
Monday - Thursday
4 PM - 10 PM
10 PM
Friday
11 AM - 10 PM
11 PM
Saturday
4 PM - 10 PM
11 PM
Sunday
4 PM - 9 PM
9 PM
Location
5 Oakbrook Ctr
Oak Brook, IL 60523 (Map)
Phone: 630-571-1808
Fax: 630-571-1809
Menus
Menus
Menus
Menus
Private Dining
Perry's offers the most unique private dining experience for your most important business and personal moments. With options available to accommodate groups, from eight to 80, Perry's private dining rooms were each designed with a different mood and feel to create the perfect setting, no matter what the occasion.
From an important business lunch to a casual group get-together to special family celebrations to the most elegant affair, Perry's dedicated team will ensure your event meets all your expectations. Our Sales Managers will provide attention to even the smallest detail, assisting with menu selection and pairings with the perfect wine from our list of hundred of unique choices.
It's five-star service made to order…and it's a quintessential Perry's experience.
Menu Options
Room Layouts
Select rooms may be combined for larger parties. Please contact your Sales Manager for specific location details.
Layout
Bar 79
Bar 79
Bar 79
Bar 79
Bar 79
Bar 79
Named in honor of the year Perry's first opened as a meat market in 1979, Bar 79 offers a distinct, elegant, but relaxing experience at each of our steakhouse locations. Bar 79 is fully stocked with the finest libations to be paired with bar menu items or our complete menu. With live music daily, and specially priced bar menu items during Social hour, Bar 79 is the perfect place to wind-down from work or wind-up for a night out.
Bar 79 Hours
Monday - Thursday
4 PM - 10 PM
Friday
11 AM - 11 PM
Saturday
4 PM - 11 PM
Sunday
4 PM - 9 PM
Mixology Cocktails
A new classic. Belvedere Intense Unfiltered vodka is shaken to a frenzy and strained into a chilled martini glass. Served with 3 blue-cheese stuffed olives.
A classic cocktail made with Maker's 46, the bold and rich expression from Maker's Mark, vermouth and a dash of bitters.
A classic cocktail from the 1920's. Our version combines Hennessy VS, Grand Marnier and Caravella Limoncello with fresh pressed lemon juice. Shaken and served up with a twist of lemon.
Belvedere Mango Passion vodka, Combier Peach Liqueur, fresh pressed lemon and lime juice. Shaken and topped with Chandon Brut.
Made with Glenmorangie 10 year old, lemon juice, honey water and fresh ginger. Shaken and served up with a lemon twist. A refreshing complement to any of our chilled appetizers.
Blackberries, fresh basil and pineapple are muddled with Ketel One vodka, Dekuyper Amaretto, and lemon juice. Shaken and served in a tall glass over ice.
Fresh Texas ruby red grapefruit and fresh basil are crushed against Belvedere Pink Grapefruit vodka, New Amsterdam gin and Aperol. Shaken and served straight up.
Dickel #8 Bourbon with fresh mint, a hint of peach, fresh pressed lemon juice and Oolong orange spice tea. Shaken with ice and served up
Fresh pineapple and mint are muddled with lime. Shaken and served tall with Captain Morgan White rum and a hint of ginger spice.
Fresh raspberries and lemon are muddled with Ultimat vodka and Cruzan raspberry rum. Served tall and topped with a poof of Chandon Brut in a sugar-crusted glass.
Camarena Silver tequila, Dekuyper 03 Liqueur, fresh lime and agave nectar. Served straight up
Smirnoff Blueberry vodka is shaken with fresh lime juice, cranberry and diced cucumber. Served straight up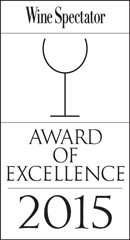 Wine
At Perry's Steakhouse & Grille, we strive to provide our guests the highest level of service and quality when it comes to wine, from offering private, temperature controlled wine lockers to a courteous and knowledgeable staff always at the ready with a pairing suggestion. Our wine list includes well-known labels as well as wines from smaller, family-owned vintners who handpick each grape. Our wine list is ever-changing, so even the most dedicated aficionados can expect to find new and exciting wines each time they dine with us.
Perry's Private Labels
Our 2013 Private Label Chardonnay is a patron favorite – aged in French Oak barrels and offering the palate luscious notes of pear, green apple and vanilla, with a long elegant finish.
Our 2012 Private Label Cabernet Sauvignon is bold, with a bouquet of CASSIS, black cherry and cocoa and the opulent flavors of black currant, cinnamon and smoke.  You will be delighted by these enticing, sophisticated selections.
Social Hour
During Perry's popular Social Hour at Bar 79, enjoy delectable specially-priced appetizers such as our Perry's Famous Pork Chop Bites and Beef Tenderloin Sliders.
Monday – Friday, 4 PM – 6:30 PM
Sunday, 4 PM – 9 PM
Mixology/Cocktails
All Mixology Cocktails - $6
7 Cocktails for $7 - Available Monday-Friday
Entertainment
Come experience the sounds of live entertainment at Perry's Bar 79 during your next evening out. Whether it's a live jazz trio or scintillating piano music, we invite you to sit back, relax and enjoy all Perry's has to offer.
Monday – Wednesday, 6 PM – 10 PM
Thursday, 6 PM – 10 PM
Friday – Saturday, 6 PM – 11 PM